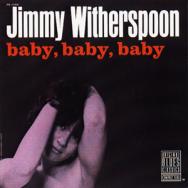 CAT # OBCCD-527-25

1. Mean Old Frisco 3:58
2. Rocks In My Bed 6:06
3. Bad Bad Whiskey 3:00
4. Baby, Baby, Baby 3:00
5. Sail On Little Girl 4:37
6. One Scotch, One Bourbon, One Beer 5:45
7. Lonely Boy Blues 2:45
8. Blues And Trouble 2:50
9. Endless Sleep 2:10
10. I'll Go On Living 2:40
11. I Can't Hardly See 3:30
12. It's A Lonesome Old World 3:30
A blues singer with a jazz singer's sensibility, Jimmy Witherspoon embosses everything he tackles with an individual stamp. For this 1963 album, perhaps the finest he recorded during his tenure at Prestige Records, 'Spoon oozed his way through Duke Ellington's "Rocks in My Bed," drained two Amos Milburn drinking songs to the last drop, and transformed Big Boy Crudup's "Mean Old Frisco" into something of a gospel shout. And Kenny Burrell, the jazz guitar giant who'd cut his teeth on T-Bone Walker, played some of the most biting blues licks of his prolific career.

with Kenny Burrell, Leo Wright, Gildo Mahones, George Tucker, Jimmie Smith, Bobby Bryant, Jimmy Bond, and others

Recorded May 6, 1963.
Find out more about Jimmy Witherspoon
MORE RELEASES FROM JIMMY WITHERSPOON
R&B, BLUES, SOUL & STAX ESSENTIALS