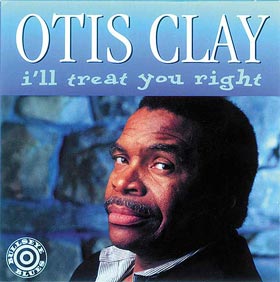 CAT # 11661-9520-2

1. I Can Take You To Heaven Tonight 4:32
2. Thanks A Lot 3:37
3. Leave Me And My Woman Alone 4:15
4. Love Bone 4:32
5. Children Gone Astray 5:08
6. Don't Burn The Bridge 5:12
7. Back Away From It (Or Leave Me Alone) 4:40
8. Gonna Take My Heart's Advice 4:54
9. Believe That 3:52
10. Hope You Love Me Like You Say You Do 4:10
Click here to purchase this album on Amazon.com

Many of the great original soul singers of the sixties have ì wandered from the true path, following the trends of the day. ì Not Otis Clay. He has continued to play uncompromised hard soul ì music, tirelessly touring the country. In 1991 Otis returned to ì Memphis with some of the same Hi Rhythm Section that played on ì his hits, plus the Memphis Horns and Bullseye's Ron Levy, to make ì 'I'll Treat You Right,' with a guest guitar appearance by Little ì Jimmy King.
Find out more about Otis Clay
MORE RELEASES FROM OTIS CLAY
More Info
Click here to purchase this album on Amazon.comIf you like deep, gospel-drenched `60s soul in the tradition of Otis Redding and the…
More
POP & ROCK ESSENTIALS