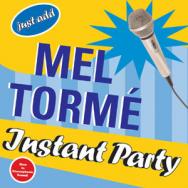 CAT # CCD-2240-25

1. I'm Hip 3:33
2. Give Me The Simple Life 3:37
3. Medley: On The Swing Shift / The Five O'Clock Whistle 3:35
4. Ac-cent-tchu-ate The Positive 3:08
5. Aren't You Glad You're You 3:10
6. The Carioca 3:28
7. Cow Cow Boogie 4:03
8. I Get A Kick Out Of You 5:14
9. Sweet Georgia Brown 3:05
10. Walk Between Raindrops 2:51
11. Shine On Your Shoes 3:09
12. New York, New York Medley: For Me And My Gal / Mack The Knife / Birth Of The Blues / Send A Little L 5:57
13. All God's Chillun Got Rhythm 3:40
14. Medley: What's This / Anthropology / Air Mail Special 4:52
Introducing Concord's Instant Party Series...
Here's a series of fun and festive artist CD collections that'll turn any gathering into an Instant Party. Featuring only the finest, hand-picked, 100% real party music—no artificial colors or flavors—each disc in Concord's Instant Partyseries is packed full of the celebratory sounds of a Grade-A, top-shelf Concord artist. From the spicy Latin sounds of Tito Puente and Mongo Santamaria to the velvety smooth, swinging vocals of Mel Tormé, just spin any disc in this atmosphere-enlivening series and you and have an Instant Party!
Find out more about Mel Torme