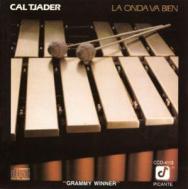 CAT # CCD-4113-25

1. Speak Low 6:04
2. Serengeti 5:05
3. Star Eyes 4:32
4. Mambo Mindoro 3:47
5. Aleluia 4:09
6. I Remember You 4:33
7. Linda Chicana 5:19
8. Sabor 4:26
"La Onda Va Bien" is a slang expression implying smoothness, hip-ness, and first rate quality. These characteristics are indicative to the music of Cal Tjader and also to the taste of those who listen.
This album was recorded in San Francisco, Ca, on July 1979.
The album also features Mark Levine, Roger Glenn, Vince Lateano, Rob Fisher, and Poncho Sanchez.
Find out more about Cal Tjader