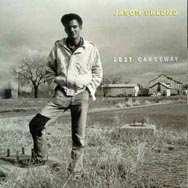 CAT # 18964-0645-2

1. On the Way 3:52
2. Second Story 4:38
3. Rusty Water 3:57
4. Motivation Blues 3:05
5. Travelin' on that Lost Causeway 2:35
6. What's Left of 66 3:10
7. Goin' Back Home Again 3:25
8. Southern Breeze 2:53
9. The Sea Took Me 1:51
10. Chaos Blues 3:54
11. History Spills 2:34
12. Hometown Again 4:05
13. Motel Thin 5:28
14. Dreamin' About the Keys 4:44
Click here to purchase this album on Amazon.com

If you're waiting for the next big folk artist in America, I'd put my money on Jason Eklund.' --Stuart Penn, Morning News, Fayetteville, AR Eklund is joined by Darcie Deaville, (fiddle, mandolin); Mark Rubin, (bass viol, tenor banjo); Jane Gillman, (dulcimer); Jimmy LaFave and Laura Nadeau, (vocals), and a host of others on his debut recording for Flying Fish. The 1995 album, enthusiastically received by critics and fans, found Eklund compared to such folksinger/songwriter giants as Bob Dylan, John Prine, Tom Waits and Townes Van Zandt.
Find out more about Jason Eklund