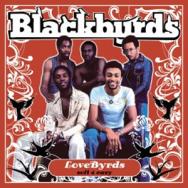 CAT # FCD-30195-25

1. A Heavy Town 2:58
2. All I Ask 3:50
3. At The Carnival 2:49
4. Wilford's Gone 2:20
5. Love Is Love 4:46
6. Soft And Easy 4:02
7. April Showers 3:49
8. Summer Love 5:08
9. Dreaming Of You 3:34
10. Lady 5:04
11. Flying High 3:29
12. The Baby 5:17
13. Life Styles 3:13
14. Time Is Movin' 3:54
LoveByrds is a concept album. The focus is strictly on a key forte in The Blackbyrds' broad oeuvre: Love and Romance. Long before there was a Smooth Jazz format The Blackbyrds were soft and easy purveyors of the bittersweet promise and perils of falling under the delicious spell of love.

The Blackbyrds (formed in 1974, disbanded 1980) were the creation of one Dr. Donald Byrd, noted Jazz trumpeter in the Blue Note Records stable for many years and a distinguished protégé of Clifford Brown. Features 14 love songs by the two-time Grammy Nominated jazz supergroup and is the companion release to Happy Music: The Best of the Blackbyrds.
Find out more about The Blackbyrds
MORE RELEASES FROM THE BLACKBYRDS
R&B, BLUES, SOUL & STAX ESSENTIALS