Modern Answers To Old Problems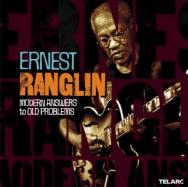 CAT # 83526

1. Memories of Senegal 6:27
2. Outernational Incident 5:50
3. Kunene 5:14
4. Many Roots 7:52
5. Profiles 5:43
6. What A Day 6:25
7. Swaziland 4:52
8. Sound Invasion 7:41
9. Inflight 5:52
10. Alpinos 5:03
Jamaican guitarist Ernest Ranglin's Modern Answers to Old Problems is an adventuresome mix of jazz sophistication and Afro-pop syncopation. These different musical influences are woven together by the elegant, understated sound of Ranglin's distinctive guitar playing.
Best known for his jazz chops, Ranglin also has experience with reggae, funk and other styles. The ten tracks on Modern Answers to Old Problems include mostly Ranglin originals: "Memories of Senegal," Outernational Incident," "Kunene," "Many Roots," "Profiles," "What A Day," "Swaziland," "Sound Invasion," "Inflight" and "Alpinos." Ranglin's arrangement skills on this latest outing are as fluent and versatile as his guitar work.
For his latest project, Ranglin has enlisted drummer Tony Allen, from Fela Kuti's band of the '70s. Added to the brew is a stellar cast of London-based musicians with a Nigerian connection: keyboardist Joe Bashorun, bassist Orefo Orakwue, percussionists Olalekan Babalola and Olakunle Ayanlolo, and vocalist Sylvia Tella. Two special guest saxophonists include Mercury-prize nominee Denys Baptiste and the great Courtney Pine. To add yet another twist, Chris Franck of Da Lata joins in on rhythm guitar, berimbau and percusssion.
A guitar virtuoso, Ernest Ranglin's career spans five decades. He was born in 1932 and grew up in rural Jamaica. Ranglin learned how to play ukulele from two of his uncles and soon graduated to guitar. As a teenager, he began performing locally, often with pianist (and current Telarc label-mate) Monty Alexander. Recording at Studio One in Jamaica during the '50s, Ranglin found himself among the early pioneers of ska and reggae. He began to attract international attention when he traveled to London to perform at Ronnie Scott's jazz club. Chris Blackwell's Island Records soon recruited the young guitarist.
Back in the studio, Ranglin worked on dozens of hit records including the arrangement on the Melodians' "Rivers Of Babylon" and the lead guitar on The Wailers' "It Hurts To Be Alone," one of four Bob Marley tracks to which he contributed in the mid-'60s. In 1973, the Jamaican Government awarded him the Order of Distinction for his contributions to music. Ranglin first began working with African musicians during the making of In Search of the Lost Riddim in Senegal, West Africa.
Ranglin's Telarc debut, the subtle, groove-rich Modern Answers to Old Problems promises to be a must-have for jazz and reggae fans.
Find out more about Ernest Ranglin
RECENT RELATED RELEASE
MORE RELEASES FROM ERNEST RANGLIN
JAZZ ESSENTIALS