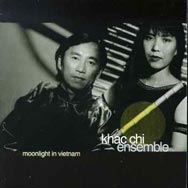 CAT # 12136-0005-2

1. On the Mountain Top (tren dinh nui) 3:04
2. Forest Love (tinh yeu rung) 4:00
3. Quan Ho Folk Song (bai hat dan ca quan ho) 4:02
4. T'rung Stream (suoi dan t'rung) 2:50
5. Mountain Cave (hen ho trong hang nui) 3:26
6. Highland Dance (vu khuc tay nguyen) 3:45
7. Spring is Coming (mua xuan den) 2:29
8. Cai Luong Folk Song (bai hat cai luong) 3:31
9. Farmer's Song (ho hui) 3:00
10. Spring Walk (du xuan) 3:47
11. Full Moon Dance (vu khuc dem trang) 3:54
12. Native Land (que huong) 3:34
13. Northwest Folk Song (dan ca tay bac) 2:56
Click here to purchase this album on Amazon.com

Vietnam is home to more than fifty different ethnic peoples and hundreds of styles of music. The Khac Chi Ensemble features numerous traditional instruments representing the country's rich diversity. These include the dan bau (one-string zither played in harmonic overtones), the ko ni (stick fiddle with a resonating disc held in the player's mouth), and the t'run (suspended bamboo xylophone). The ensemble is led by Khac Chi and Ngoc Bich, two of Vietnam's most innovative and influential musicians. Now based in Vancouver, Canada, they have toured internationally for fifteen years. Their virtuoso performances and unique arrangements have fostered new awarenesses of traditional instruments and styles, both inside and outside Vietnam.
Find out more about The Khac Chi Ensemble