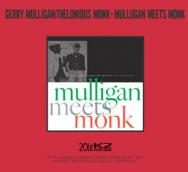 CAT # RCD-1106-2

1. 'Round Midnight 5:15
2. Rhythm-a-ning 5:17
3. Sweet And Lovely 7:15
4. Decidedly (Take 4) 5:51
5. Straight, No Chaser (Take 3) 8:58
6. I Mean You (Take 4) 6:50
7. Decidedly (Take 5) 5:51
8. Straight, No Chaser (Take 1) 8:58
9. I Mean You 6:50
10. I Mean You (Take 2) 5:52
Three decades ago, when Riverside paired Thelonious Monk and Gerry Mulligan on this album, it seemed a daring move. These two appeared to represent opposite ends of the jazz spectrum, separated by geography (East Coast and West) as much as by style (bop vs. cool). Actually, it was a rather safe project: producer Orrin Keepnews had learned that the two men were friends; even more importantly, it is now clear that both were the kind of revolutionaries who had substantial (and not dissimilar) respect for jazz tradition. The album was, as advertised, a meeting of giants, but its most lasting value may be as proof that there was a strong bond connecting theoretically opposing forms of early modern jazz.
with Wilbur Ware, Shadow Wilson
Find out more about Gerry Mulligan & Thelonious Monk
RECENT RELATED RELEASE
MORE RELEASES FROM GERRY MULLIGAN & THELONIOUS MONK
Three decades ago, when Riverside paired Thelonious Monk and Gerry Mulligan on this album, it seemed a daring move. These two appeared to…
More
JAZZ ESSENTIALS