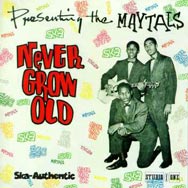 CAT # 11661-7643-2

1. I'll Never Grow Old 2:06
2. Sweet Sweet Jenny 2:38
3. Are You Mine 2:57
4. Matthew Mark 2:43
5. My Destination 2:44
6. True Love 2:56
7. Just Got to Be 2:24
8. Treat Me Bad 2:43
9. Hallelujah 2:39
10. Don't Let 3:02
11. War No More (AKA Down By the Riverside) 2:55
12. Tell Me You Love Me 2:29
13. Six and Seven Books of Moses 2:24
14. Four Seasons (Version 1) 2:42
15. Four Seasons (Version 2) 2:39
16. I'm Gonna Sit Right Down and Cry (Over You) 2:44
Click here to purchase this album on Amazon.com

The Maytals are true Ska hit-makers and Never Grow Old -- a seminal ska masterpiece -- was their first album, recorded in 1962 and 1963. The album features the ska rave ups that kept Kingston's dancehalls rocking. Featuring the musical backing of the legendary Skatalites, Never Grow Old showcases the ska sound of one of the top vocal groups in Jamaica's history with hits stretching over a 20-year period. Included here are such number one songs as 'I'll Never Grow Old,' 'Matthew Mark' and 'Six and Seven Books of Moses.' Included are the 12 tracks found on the original LP release, plus four bonus tracks, all taken from the master tapes.
Find out more about The Maytals