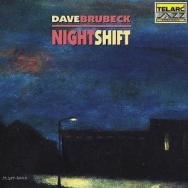 CAT # 83351-25

1. Yesterdays 11:33
2. I Can't Give You Anything But Love 10:59
3. Travelin' Blues 8:34
4. Thank You 4:38
5. You Go to My Head 6:39
6. Blues For Newport 5:47
7. Ain't Misbehavin' 7:09
8. Knives 6:45
9. River Stay 'Way From My Door 6:24
On
NightShift
, in the intimate setting of New York's Blue Note jazz club, Brubeck—with his illustrious team of musicians—showcases another side, performing a swinging session following the chart-topping successes of his pensive
Late Night Brubeck
, and reflective solo piano album,
Just You, Just Me
. The American jazz legend swings in a session full of dynamic surprises as
NightShift
features Brubeck's fresh fashionings, rhythmic shifts, pithy emotion and resplendent technique.
Brubeck includes four originals in these nine soulfully swinging jazz standards, and masters the pieces along with his regular cohorts—reedman Bobby Militello, bassist Jack Six, drummer Randy Jones, clarinetist Bill Smith and trombonist Christ Brubeck. NightShift features diverse selections from Brubeck's vast repertoire, including highlights like "Knives," an exciting textural piece from his large-scale orchestral composition, and an inventive interpretation of Jerome Kern's "Yesterdays." Brubeck brings his talent and technique to the table on this must-have CD.
Find out more about Dave Brubeck