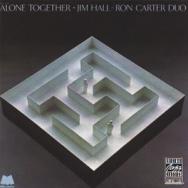 CAT # OJCCD-467-25

1. St. Thomas 6:45
2. Alone Together 5:56
3. Receipt, Please 4:59
4. I'll Remember April 7:02
5. Softly, As In A Morning Sunrise 5:28
6. Whose Blues 5:54
7. Prelude To A Kiss 3:22
8. Autumn Leaves 6:23
This is the first of the duo albums of Jim Hall and Ron Carter, and it captures the discovery and delight the two found in their early collaboration. Together, these giants of their instruments comprise a dream string section. Anticipating one another, often seeming to think with one mind, they produce chamber music of the highest order. Exploring the possibilities in six standard songs (Sonny Rollins's "St. Thomas" had long since become a standard) and two originals, Carter and Hall employ a great sense of fun in the serious business of music making. Among the highlights: a romp through "St. Thomas," their moving treatment of Duke Ellington's "Prelude to a Kiss," and Hall's earthy "Whose Blues."
Find out more about Ron Carter and Jim Hall
MORE RELEASES FROM RON CARTER AND JIM HALL
More Info
Sorry, but no detailed description of this release is currently available. Please click more info for this product's tracklisting, and other information on this title currently online.
JAZZ ESSENTIALS