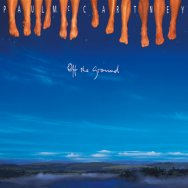 CAT # HRM-32168-02

1. Off The Ground 3:41
2. Looking For Changes 2:48
3. Hope Of Deliverance 3:21
4. Mistress And Maid 3:00
5. I Owe It All To You 4:51
6. Biker Like An Icon 3:26
7. Peace In The Neighbourhood 5:06
8. Golden Earth Girl 3:44
9. The Lovers That Never Were 3:42
10. Get Out Of My Way 3:32
11. Winedark Open Sea 5:26
12. C'Mon People 7:43
Digitally remastered reissue of the ninth solo studio album by the legendary Sir Paul McCartney, originally released in 1993. As his first studio album of the 1990s, it is also the follow-up to his acclaimed 1989 endeavor, Flowers in the Dirt. Sir Paul decided to record the album "live in the studio," meaning that the band would rehearse an entire song then record it in one take, instead of recording each vocal track and instrumental track separately. This approach gave a new, raw and direct feel to the work. His increased interest in social issues came to prominence on this album, with the anti-animal cruelty rocker 'Looking for Changes,' or paeans for a better world ('Hope of Deliverance' and 'C'mon People'). This is an important album in the McCartney catalog of music, and is a pivotal addition to all McCartney music collections, and Rock music collections in general.
Find out more about Paul McCartney