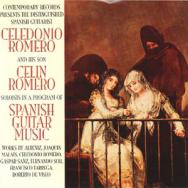 CAT # CCD-14069-25

1. Serenata Espanola 3:46
2. Mazurka 1:42
3. Minuetto In D Major 2:12
4. Leyenda (Asturias) 6:17
5. Fantasia 2:58
6. Zapateado Clasico 1:40
7. Pavana And Danza 2:27
8. Sarabanda And Bourree 2:05
9. Rumores De La Caleta 3:34
10. Minuetto In C Major 3:05
11. Minuetto De La Grand Sonata In C Ma 3:29
12. Estudio In B Minor 2:01
13. Preludio And Pavana 3:41
14. El Noi De La Mare 2:00
15. El Testamento Del Amelia 2:14
Celedonio Romero was not just a great Spanish guitarist, but also the head of a great Spanish guitar dynasty. Himself a child prodigy in his native Malaga, he arrived in the United States in 1957 with three talented sons who had followed their father's lead and become accomplished performers. (Middle son Pepe is heard playing flamenco on CCD-14070-2, (Flamenco Fenomino!) Here, Celedonio and then eldest son Celin interpret the music of Spain's classical guitar composers and play a few of papa Romero's own creations, as they did in their joint concert appearances. Don't be misled by the double billing--the dazzling virtuosity heard on this disc is always the product of a single classical guitar.
Find out more about Celedonio Romero