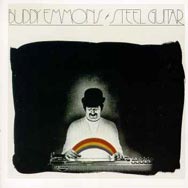 CAT # 18964-0007-2

1. Indian Killed a Woodcock/Sugarfoot Rag 2:48
2. Medley: Wabash Cannonball/Bouquet of Roses/That's The Hawaiian In Me/Steel Guitar Rag/Remington Ride 8:10
3. Wild Mountain Thyme 2:02
4. Orange Blossom Special 2:21
5. Nothing Was Delivered 2:56
6. Rose in Spanish Harlem 3:55
7. Top Heavy 3:16
8. Cannon in D Major 7:00
Click here to purchase this album on Amazon.com

Emmons revolutionized the approach and technique applied to steel guitar. His exceptional musicianship breathes fresh air into classics such as 'Rose In Spanish Harlem' or traditional Hawaiian tunes. Emmons masterful manipulation of the steel guitar makes this solo outing sound like a full orchestra.
Find out more about Buddy Emmons