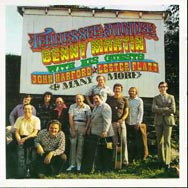 CAT # 18964-0012-2

1. Lester, Bill and Earl 2:14
2. Sunny Side of the Mountain 2:42
3. Windows of My Mind 2:58
4. Will You Be Lonesome Too? 3:00
5. Someone Took My Place with You 3:30
6. Six White Horses 2:48
7. Bonaparte's Retreat 3:34
8. Smell Good on Sunday 4:24
9. That's a Good Enough Reason 2:07
10. Pig in the Pen 2:58
11. If I Had My Life to Live Over 3:11
12. Ice Cold Love 3:15
13. One Drink Too Many 3:48
14. Crag Rock Pass
Click here to purchase this album on Amazon.com

This album by fiddler Benny Martin was among the last recordings to feature bluegrass legends Lester Flatt and Curly Sechler. An album of traditional fiddle tunes and bluegrass, the album features some of the best players in the business, including John Hartford, Charlie Collins, Michael Melford, Buddy Emmons, Buddy Spicher, Roy Huskey, D.J. Fontana, and Pig Robbins.
Find out more about Benny Martin