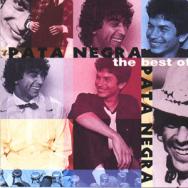 CAT # MCD-9281-25

1. Blues De La Frontera 4:11
2. Juan Charrasqueado 3:18
3. Morao Mellizo 5:31
4. Bodas De Sangre 3:01
5. Pasa La Vida 3:47
6. Yo Me Quedo En Sevilla 3:32
7. Medley: Bajarse Al More (Suite) / How High The Moon / Lunatico / No Hay Problema 2:42
8. Anonimo Jerezano 3:52
9. Tu Madre Tuvo La Culpa 3:12
10. Bulerias Del Moreno 6:06
11. Blues De Los Ninos 7:42
12. Camaron 3:26
Before going their separate ways in 1989, the guitar-playing Amador brothers (Raimundo and Rafael, the latter also a fever-pitch vocalist) led their band, Pata Negra, to the upper echelons of the Spanish pop music charts while also playing to sold-out houses in their home country and elsewhere in Europe. Although this maverick nuevo flamenco ensemble did owe a certain amount of their commercial success to the integration of rock and blues (some of which was played on electric guitars), it was their striking eclecticism–also taking in several shades of swing, deep-song ballads, and jaunty, Django Reinhardt-inspired gypsy jazz–that marked them as one of the freshest entries in the world beat field.
Culled from five Spanish albums, The Best of Pata Negra is a well-balanced representation of the Amadors' careers during and after their Pata Negra days, featuring acoustic and electric cuts, live and in-studio. The Best of Pata Negra is an ideal introduction to the consistently enthralling music of the brothers Amador.
Rafael Amador, Raimundo Amador, Jesús Arispont, Jesús Bola, Juan Manuel Cañizares, Carlos Carli, Antonio Carmona, Rafael Riqueni, Juanjo Pizarro, Manuel Soler, Guadiana, Charo Manzano, Arturo Soriano, Jos Matchell, Tino Di Geraldo, Hermanas Peligro, Antonio Rodríguez
Find out more about Pata Negra