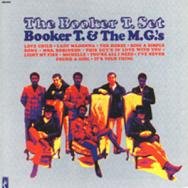 CAT # SCD-8531-25

1. The Horse 2:45
2. Love Child 3:03
3. Sing A Simple Song 3:33
4. Lady Madonna 3:32
5. Mrs. Robinson 3:41
6. This Guy's In Love With You 4:13
7. Light My Fire 3:10
8. Michelle 2:49
9. You're All I Need To Get By 3:54
10. I've Never Found A Man (A Girl) 2:49
11. It's Your Thing 3:02
On 1969's The Booker T. Set, the famous Memphis group placed its distinctive stamp on 11 pop and r&b hits of the period, including Simon and Garfunkel's "Mrs. Robinson," which became a pop and r&b hit for the instrumental foursome. Booker T. Jones's mellow-toned organ swells, Steve Cropper's razor-sharp lead and rhythm guitar parts, Duck Dunn's loping bass lines, and Al Jackson, Jr.'s rock-solid drum grooves transform each song into a nicely seasoned slice of Southern soul. The empathy that these four musicians had for each other as they subtly interlocked their parts was uncanny–and remains unsurpassed.

The Horse, Love Child, Sing a Simple Song, Lady Madonna, Mrs. Robinson, This Guy's in Love with You, Light My Fire, Michelle, You're All I Need to Get By, I've Never Found a Girl (To Love Me Like You Do), It's Your Thing

with Steve Cropper, Donald "Duck" Dunn, Al Jackson, Jr.
Find out more about Booker T. & The M.G.'s