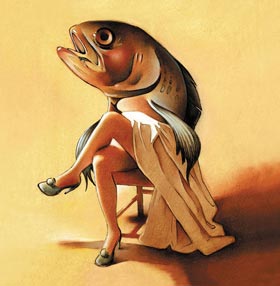 CAT # 01143-1080-2

1. Come and I Will Sing You (The Twelve Apostles) 3:41
2. Old Polina 2:39
3. The River Driver 3:03
4. The Mermaid 2:48
5. Captain Kidd 2:50
6. Graceful & Charming (Sweet Forget-Me-Not) 4:18
7. Concerning Charlie Horse 3:12
8. Harbour LeCou 3:32
9. Tishialuk Girls Set 3:27
10. French Shore 3:48
11. Cod Liver Oil 2:57
12. Tickle Cove Pond 5:01
Click here to purchase this album on Amazon.com

Includes bonus DVD - an exclusive concert and conversation with the band! 'The Hard and The Easy' is the ninth album from Great Big Sea, the Juno-nominated band that fuses Newfoundland traditional music with modern pop in a crowd-pleasing formula both heartfelt and vital. A pure force of nature - much like the ocean surge they take their name from - Great Big Sea's blend of instruments such as guitar, mandolin, bodhran, fiddle, and concertina, along with their vocal harmonies, revels in the melodies they create and the Newfoundland tunes they love. Their sound bellows joy. After almost thirteen years together, Great Big Sea is releasing a new kind of album, one that spans the spectrum of the Newfoundland songbook. This all-acoustic album of traditional and local songs is a first for singers and multi-instrumentalists Sean McCann, Alan Doyle, and Bob Hallett, but it's also a logical progression. Newfoundland music and Newfoundland culture are both their genesis and their raison d'etre.
Find out more about Great Big Sea