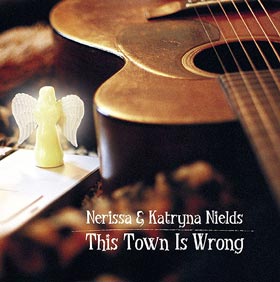 CAT # 01143-1042-2

1. The Day I Let Glory Steer 4:09
2. Glow In The Dark Plastic Angel 3:59
3. This Is The Work That We Do 4:51
4. When I Let You Into My Closet 2:42
5. Haven't I Been Good 4:55
6. Clairman Town 3:16
7. Paris 4:09
8. Sara, With Your Ring 4:22
9. When I'm Here 3:30
10. If I Wanted To 3:27
11. Kiss Me On The Moon 3:26
12. This Town Is Wrong 4:10
Click here to purchase this album on Amazon.com

Nerissa & Katryna Nields have been at the forefront of the modern folk scene for over a decade, first as the leaders of the acclaimed folk-rock band The Nields, and most recently as an acoustic duo. Whatever the configuration, their combination of stunning sibling harmonies and poignant, melodic songwriting has proved to be a winning formula. This Town is Wrong, their sophomore release as a duo, finds the sisters continuing their unique mix of folk, country, pop, and rock, and the result is their most compelling album to date. This Town is Wrong is also the title of Nerissa Nields' upcoming young-adult book which served as the inspiration for the album.
Find out more about Nerissa & Katryna Nields