Ugetsu [Original Jazz Classics Remasters]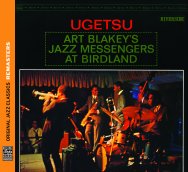 CAT # OJC-32692-25

1. One By One 6:17
2. Ugetsu 10:57
3. Time Off 4:54
4. Ping-Pong 8:05
5. I Didn't Know What Time It Was 6:28
6. On the Ginza 7:01
7. Eva 5:53
8. The High Priest 5:32
9. Conception 5:15
10. The Theme 1:45
Recorded live at Birdland in New York City in June 1963 for Riverside, Ugetsu features trumpeter Freddie Hubbard, tenor saxophonist Wayne Shorter, trombonist Curtis Fuller, pianist Cedar Walton and bassist Reggie Workman - a crew heralded as "one of the top three or four lineups Blakey ever led," according to Neil Tesser, who wrote the new liner notes for the reissue. The CD ends with four bonus tracks, including a previously unreleased cover of George Shearing's 1949 bop classic, "Conception."
"There's something special about Art Blakey and his band live, and this album is certainly no exception," says Phillips. "That's partly because this was the natural environment in which these guys were working night after night in the clubs. There are certain things that can happen in a live jazz recording that don't always happen in the more artificial environment of a recording studio."
Tesser notes that the recording marks the first appearance of iconic tunes that would remain in the Messengers' repertoire long after their composers left the band, including Shorter's "One By One" and "On The Ginza," Fuller's "Time Off," and Walton's title track. "Blakey almost never took an extended drum solo with the Messengers," says Tesser. "He didn't need to. He stamped every gig, every phrase, practically every note from his sidemen with the unerring judgment and bold panache of his colors and accents."
Find out more about Art Blakey & The Jazz Messengers
MORE RELEASES FROM ART BLAKEY & THE JAZZ MESSENGERS
JAZZ ESSENTIALS