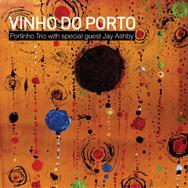 CAT # MCGJ1033-25

1. Vinho Do Porto 2:58
2. Satin Doll 3:42
3. Pools 5:07
4. Canção Que Morre No Ar 5:32
5. Dôce De Côco 3:57
6. Aquarela do Brasil 6:06
7. Footprints 5:11
8. Homage To Tom 5:48
9. Viva O Rio De Janeiro 4:04
10. Vai De Vez 3:54
11. Who's Smokin'? 3:46
Portinho Trio Joins MCG Jazz Label

On the new MCG Jazz CD, Vinho Do Porto (MCGJ 1033) featuring special guest Jay Ashby, Portinho Trio mixes some great songs from Brazil and the New York Jazz scene. Some favorites are "Homage To Tom" with its feeling of Antonio Carlos Jobim in the keyboards. "Satin Doll" and "Footprints" are novel interpretations of two jazz standards from different eras of jazz history. "Vai De Vez," led by the trombone, is a light and airy groove for the quartet. "Canção Que Morre No Ar" could be called a ballad, but with Portinho's drums it becomes a soft groove. On "Aquarela Do Brasil" Klaus Mueller's piano intro is an eloquent set-up for Jay Ashby's trombone on the melody.

"For me it is a dream come true to have such excellent musicians on my CD and a major label like MCG Jazz," says Portinho.

"I watched him play with many of the greats in jazz, like Tania Maria, Gato Barbieri, Paquito D'Rivera, and many others," says Rob Crocker, WBGO-FM. "Whether Portinho is playing at the world famous Blue Note or the underground cellar spot (downtown New York City) called the Zinc Bar, you can bet your last dollar he is going to swing the band. While this recording features the drummer as leader, it is not one that is overpowered by the drums. Rather what you have is a 'hip' CD of trio & quartet music."

Born in Brazil, Portinho moved to the United States in the early 1970s. Since arriving in the US, Portinho has worked with many artists, including Airto Moreira, Gato Barbieri, Harry Belafonte, Dom Salvador, Paquito de Rivera, Astrud Gilberto, Michel Camilo, and Tania Maria.

In his book My Sax Life, Paquito D'Rivera states, "I really dislike those percussionists who are convinced that energy and swing are direct products of an exaggerated volume and overplaying, even though there are clear examples who prove just the opposite, such as Lewis Nash, Mark Walker, Grady Tate, Mel Lewis, Ben Riley, and especially Portinho; one of the most tasteful, yet energetic and joyful percussionists of all times."

Musicians appearing on the recording include Portinho – Drums, Klaus Mueller – Piano, Itaiguara Brandão – Bass, Lincoln Goines – Bass, and special guest Jay Ashby – Trombone and Percussion. Songs arranged by Portinho and Klaus Mueller.

"When I first came to New York and started exploring the music scene, it quickly became apparent to me that Portinho is one of the most unique and powerful drummers I've ever heard," says Mueller. "That said, it is an honor to be part of this CD production." Goines adds, "It has been my pleasure to participate on this project with my friends Klaus and Jay – and especially with my old friend and mentor Portinho who taught me the inner meaning of the samba, and its artful application." Ashby goes on to say, "Vinho Do Porto represents a set of great arrangements, all of which are perfectly crafted to highlight one of the most unique and distinctive voices of the modern drum set – Portinho."

The performing version of Portinho Trio currently consists of Portinho on drums, Klaus Mueller on piano, and Lincoln Goines on bass.
Find out more about Portinho Trio