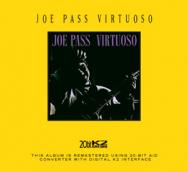 CAT # PACD-2310-708-25

1. Night And Day 6:43
2. Stella By Starlight 3:19
3. Here's That Rainy Day 5:37
4. My Old Flame 4:56
5. How High The Moon 5:03
6. Cherokee 4:48
7. Sweet Lorraine 4:57
8. Have You Met Miss Jones? 2:40
9. 'Round Midnight 5:15
10. All The Things You Are 5:17
11. Blues For Alican 5:25
12. The Song Is You 2:30
The appearance of Virtuoso in 1974 transformed guitarist Joe Pass from a musician's musician to an international star. At a time when the unaccompanied format was almost exclusively the province of pianists, and many guitarists were leaning toward jazz/rock, this album set the standard for solo guitar while helping to renew interest in the instrument's pre-fusion tradition. It also left no doubts regarding the technique, imagination, and taste of Pass, whose deep harmonic knowledge, virtuosic speed, ability to sustain momentum while moving in and out of tempo, and elevated sense of form led many to compare his solo efforts to those of piano nonpareil Art Tatum. This music represents the foundation upon which the glory days of Pass's career were built.
Find out more about Joe Pass