Where'd You Come From, Where'd You Go?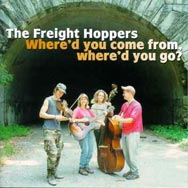 Release Date: 01 Jan 1996
Label: ROUNDER
Genre: POP & ROCK
CAT # 11661-0403-2

1. Sandy River 3:37
2. Cotton Eyed Joe 3:34
3. Mississippi Breakdown 2:02
4. Little Sadie 3:34
5. Texas Gals 2:49
6. Johnson Boys 3:12
7. Logan County Blues 3:00
8. Gray Cat on a Tennessee Farm 2:50
9. Four Cent Cotton 3:46
10. Cornbread, Molasses & Sassafras Tea 2:33
11. Dark Hollow Blues 4:25
12. Elzik's Farewell 2:55
13. Pretty Little Girl 2:11
14. How Many Biscuits Can You Eat This Morning? 3:54
15. Kentucky Whiskey 2:13
16. Bright Morning Stars 2:43
Click here to purchase this album on Amazon.com

The Freight Hoppers have become one of the tightest bands in old time music. Good rocking dance tunes and beautiful two part harmony coupled with a good sense of humor. Hop on board.' --John Herrmann The Freight Hoppers play a mixture of rollicking old-time dance tunes and traditional songs from the golden age of old time music (the 1920s and '30s). They ride the same rails that the Skillet Lickers, the Georgia Yellowhammers, and the Carter Family rode. Their music is the music that preceded bluegrass and modern country music and from which those later forms evolved in the '40s and '50s. It is music from the age of the steam locomotive.
Find out more about The Freight Hoppers