Al Di Meola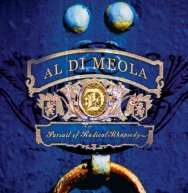 Release Date: 15 Mar 2011

TEL-32835-02
Guitar Great Al Di Meola To Release New Works With His World Sinfonia Band.
MORE
MORE RELEASES FROM AL DI MEOLA
JAZZ ESSENTIALS
ABOUT

AL DI MEOLA
Born in Jersey City, New Jersey, on July 22, 1954, Al Di Meola grew up with the music of The Ventures, The Beatles and Elvis Presley. Drums were his first instrument, but by age eight he had switched to guitar. By his early teens, he was already an accomplished player, though he felt somewhat ostracized from the local clique of musicians. "In the '60s, if you didn't play like Eric Clapton or Jimi Hendrix or Jimmy Page, you weren't accepted," he recalls of his high school years in Bergenfield, New Jersey. "So I was never really accepted by that group of so-called friends in Bergenfield because they didn't know what to make of my style. Even though I wanted to learn Beatles and Ventures music when I began taking lessons, my teacher (Bob Aslanian) also made me learn jazz and bossa nova and a little classical, so I had all this technique that my friends couldn't understand. It never fit the kind of music that they were playing. They were interested in my technique, but at the same time they were jealous of it."
A big influence on his musical outlook during his formative years was the burgeoning hybrid of rock and jazz that came to be known as fusion music. Guitarist Larry Coryell, whom Al later dubbed "The Father of Fusion," became a particular focus of interest. "I used to ride the bus from New Jersey to see him play at little clubs in Greenwich Village," he recalls. "Wherever he was playing, I'd be there."
Following an intensive period of woodshedding between his junior and senior years in high school, in which he practiced the guitar from eight to ten hours a day, Di Meola emerged with impressive chops and a clear idea of how to apply them. "I was trying to find myself, or find the kind of music that suited where I was going with the guitar," he told Down Beat. "I had grown up on rock and loved it, but found it a very limited kind of music for expansion on your instrument. I started listening to bluegrass, especially Doc Watson, which really helped me develop my speed. I really dug Tal Farlow and Kenny Burrell at the time, but I also knew that it wasn't what I ultimately wanted to do. I wanted to do something new, something nobody was doing."
In 1971, Di Meola enrolled at the Berklee School of Music in Boston. By the second semester, he was playing in a fusion quartet led by keyboardist Barry Miles. It was in the early part of 1974 that he received the fateful call from Chick Corea. "I was just sitting around my apartment in Boston on a Friday afternoon when Chick called and asked me to come to a rehearsal in New York," he recalls. "I couldn't believe it. It was really a dream come true. In 10 minutes I packed some clothes in a bag, got a ride to New York and never saw that apartment in Boston again."
Following a weekend of rehearsals with that band, Return to Forever, Di Meola made his debut with RTF at Carnegie Hall. The next night he played to a crowd of 40,000 in Atlanta. His star quickly ascended.
After three wildly successful landmark fusion albums with Corea on keyboards, Stanley Clarke on bass, Lenny White on drums and Di Meola on guitar—Where Have I Known You Before, the Grammy Award winning No Mystery and Romantic Warrior—RTF disbanded in 1976, effectively launching Al's solo career. He called the breakup a blessing in disguise. "It was probably for the best because we each got a chance to develop our own careers and get to know what it was like to be a leader and producer and just be out on our own."
He debuted in 1976 with Land Of The Midnight Sun, a typically blazing showcase of his frenetic, slashing style which also featured performances by drummers Lenny White and Steve Gadd, percussionist Mingo Lewis, synth wizards Jan Hammer and Barry Miles, bassists Anthony Jackson and Jaco Pastorius. Over the course of six more albums with Columbia Records—Casino, Elegant Gypsy, Splendido Hotel, Electric Rendezvous, Tour De Force and Scenario—Di Meola firmly established himself as a powerful and influential force in contemporary music. He went on to record a string of highly evocative, pan-global projects for the Manhattan/EMI, Tomato and Mesa/Bluemoon labels before signing with Telarc.
Di Meola continued to conquer new musical horizons on The Infinite Desire, his 1998 Telarc debut, which featured his most extensive and effective use of midi technology ever. The Infinite Desire has sold more than 100,000 copies to date and logged over 3 months on Billboard's Contemporary Jazz Chart.
1999 saw the release of Di Meola's first-ever seasonal recording, Winter Nights, which featured original compositions alongside renditions of traditional carols and contemporary standards like Peter Gabriel's "Mercy Street" and Paul Simon's "Scarborough Fair." Elegant, melodic, and beautifully crafted, Winter Nights also included the extraordinary work of Roman Hrynkiv on bandura, a Ukranian folk instrument with an enchanting sound and texture.
On The Grande Passion, released in 2000, Di Meola continued to explore melody and rhythmic diversity with the help of his acoustic group, World Sinfonia. His critically acclaimed 2002 album, Flesh On Flesh, put the spotlight back on his outstanding electric guitar work. Consequence of Chaos, released in 2006, offers a contemporary set of 15 original compositions and guest appearances by pianist Chick Corea, drummer Steve Gadd, keyboardist Barry Miles, and bassist John Patitucci, among others.
The Los Angeles Times recently summed it up best when the paper wrote, "Al Di Meola is much more than fast playing now, having matured into a far more complete artist…And that maturity is apparent in his attraction to and wide array of musical elements from around the world, and in his own spare and thoughtful soloing."