Art Blakey & The Jazz Messengers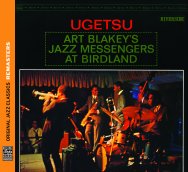 Release Date: 15 Mar 2011

OJC-32692-02
Recorded live at Birdland in New York City in June 1963 for Riverside, Ugetsu features trumpeter Freddie Hubbard, tenor saxophonist Wayne Shorter, trombonist Curtis Fuller, pianist Cedar Walton and bassist Reggie Workman.
MORE
MORE RELEASES FROM ART BLAKEY & THE JAZZ MESSENGERS
JAZZ ESSENTIALS
ABOUT

ART BLAKEY & THE JAZZ MESSENGERS

One of the most important drummers in the history of jazz (not just for his influential, hard-driving drumming, but also for his discovery and cultivation of prodigious new jazz talent throughout his remarkable career), the late Art Blakey is truly deserving of the status of "Jazz Legend." Propelled by Blakey's incessantly grooving, deep, wide beat, you could also always count on any of his Jazz Messengers units to swing hard.

Art Blakey, drums; with collective personnel: Wynton Marsalis, trumpet; Valery Ponomarev, trumpet; Bobby Watson, alto saxophone; Bill Pierce, tenor saxophone; David Schnitter, tenor saxophone; James Williams, piano; Charles Fambrough, bass; Dennis Irwin, bass.