King Curtis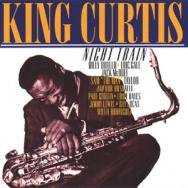 Release Date: 10 Apr 1995

PRCD-24153-2
King Curtis got the opportunity to demonstrate that he could stretch out with the best jazzmen during his affiliation with Prestige (hear Soul Meeting PRCD-24033-2). He was also featured in more familiar surroundings, playing music for dancing and general partying, on the albums he cut for the subsidiary Tru-Sound label. One date, Old Gold, focused on instrumental hits that spanned two decades, while It's Party Time with King Curtis turned to original material and a… MORE
MORE RELEASES FROM KING CURTIS
R&B, BLUES, SOUL & STAX ESSENTIALS
ABOUT

KING CURTIS

As King Curtis, Curtis Ousley (1934-1971) ruled the tenor saxophone roost at New York City rhythm-and-blues and pop recording sessions from the late 1950s until his tragic death. He'd made his debut on records in 1952, but it was in 1958 that his concise, declarative, thoughtfully sculpted solos bust all over the national airwaves on such hits as Chuck Willis's "What Am I Living For," the Coasters' "Yakety Yak" (his sputtering solo providing the model for Nashville studio musician Boots Randolph's later "yakety sax" style), Bobby Darin's "Splish Splash," Clyde McPhatter's "A Lover's Question," and LaVern Baker's "I Cried for You." His versatility led to subsequent studio work with the McGuire Sisters, Connie Francis, Nat "King" Cole, Brook Benton, Buddy Holly (for whom he composed the song "Reminiscing"), Waylon Jennings, Andy Williams, the Shirelles, Sam Cooke, Soupy Sales, Wilson Pickett, Eric Clapton, the Allman Brothers, Esther Phillips, Donny Hathaway, and John Lennon, among many others. The Fort Worth–born saxophonist also scored a number of instrumental hits of his own, including "Soul Twist," "Soul Serenade," "Memphis Soul Stew," and "Ode to Billie Joe."

Inspired by Louis Jordan, Lester Young, and especially Gene Ammons, Curtis had played jazz with Lionel Hampton and Horace Silver earlier in his career. In the early '60s, he showcased his considerable jazz chops on several of albums for Prestige Records in the company of such players as Nat Adderley, Wynton Kelly, Jimmy Forrest, and Oliver Nelson. And, for Prestige's Tru-Sound subsidiary, he made an album as a blues singer and guitarist, in addition to playing alto and tenor saxophones.

Curtis had been serving as Aretha Franklin's musical director for a year and a half when he was stabbed to death by a drug addict in front of his Manhattan brownstone on August 13, 1971.